Okay, I'm not sure whether it's that I'm just plum tuckered out, or that I just really couldn't decide.
Alas. I have now decided. But it wasn't pretty getting here.
The winner is something I already have. Something I already use. Something I already love.

And at less than $15 right now at Amazon, it's pretty much the perfect gift for anyone on your Christmas list.
Dalton, my most fickle dinner-eater, typically comes home from school and asks what's for dinner with a worried look on his face. If I reply "It's a Pioneer Woman recipe!" he starts jumping up and down. Uncontrollably.
For his birthday he requested her Chocolate Sheet Cake. My entire family swooned from the yumminess. We fought over the last piece. It's sad what a good chocolate cake can do to a family.
But I've got a few more ideas that deserve a mention.
So bear with me.
My friend and fellow adoptive mama Gwen Oatsvall recently started 147 Million Orphans. She and her partner Suzanne are doing an incredible job to raise funds and awareness for orphans in Africa.

They sell really cool t-shirts as well as other clothing, jewelry and bags. You certainly could find something for anyone on their site.
And then feel really good about your purchase knowing it's helping to feed a child in Africa!
Another super cool idea is Scarlet Threads.
Lots of folks told me about this brand new site.
And after checking it out for about .72 seconds, I could see why.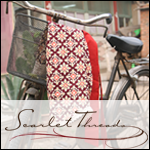 From their site:
"Scarlet Threads is a compassionate boutique, specializing in unique aprons designed and produced by talented seamstresses in rural Asia. The perfect gift for bridal showers, holidays, or any special occasion, all Scarlet Threads products are fairly traded and created in compliance with our core vision and values. When you purchase one of our beautiful hand-crafted products, you become part of our story by providing a woman with safe and rewarding work."

I might have to start wearing an apron.
So there it is. I'm done.
Congratulations to Susan from My Lil Chunky Monkey for the winning submission.
Honestly, some pretty cool ideas were submitted. Lots and lots of pretty cool ideas. So thanks very much to everyone who participated in this great effort of list-making.
Thanks for playing. I'm going to sleep now.
For a long, long time.